Regular price
Sale price
$22.00 USD
Unit price
per
Sale
Sold out
BAMBOO HYALURONIC ACID SERUM (WITH B3 + B5)

The Bamboo Hyaluronic Acid serum combines the power of bamboo extract, hyaluronic acid, Vitamin B3, and Vitamin B5 to deliver a comprehensive solution for your skin's needs to deliver intense hydration, reduce the appearance of fine lines and wrinkles, and promote a youthful, glowing complexion.
Share
Ingredients

Aqua (Distilled Water), Aloe Barbadensis (Aloe Vera) Leaf Juice, Panthenol (Vitamin B5), Sodium Lactate, Niacinamide (Vitamin B3), Sodium Hyaluronate (Hyaluronic Acid), Aqua (and) Glycerine (and) Bambusa Vulgaris (Bamboo) Stem Extract (and) Sodium Benzonate (and) Potassium Sorbate (and) Citric Acid (Bamboo Extract), Benzyl Alcohol (and) Salicylic Acid (and) Glycerine (and) Sorbic Acid (EcoCert Preservative), Sodium Hydroxide
The GOODS

Hyaluronic Acid: A polysaccharide (naturally occurring carbohydrate molecules) that support collagen production and help to maintain skin elasticity. It can hold it's weight in water by 100 times making it the most exceptional hydrating agent, helping to rejuvenate and moisturize.

High Molecular Weight (HMW) Sodium Hyaluronate forms a protective film on the skin, drawing in moisture, boosting hydration and smoothing the appearance of wrinkles.

Low Molecular Weight (LMW) Sodium Hyaluronate has smaller molecule size that can penetrate the skin to replenish the moisture barrier for longer lasting efficacy.

Our Bamboo Hyaluronic Acid Serum uses a dual blend of both HMW and LMW Sodium Hyaluronate as the best means of receiving both benefits.

Panthenol (ProVitamin B5): Revered for its hydrating, moisturizing, and protective properties in both hair care and skin care.

Vitamin B3: Improves skin moisturization and aids with building proteins in the skin.

Bamboo Extract: Contains high levels of strengthening and softening silica.

Aloe Vera Juice: a well known soothing and moisturizing agent, aloe vera contains folic acid, vitamin B, vitamin C, and carotene - all skin loving nutrients!
Tips & FAQs

Usage: Apply 3 to 5 drops directly to face after cleansing and/or toning. Gentle massage into skin and allow to soak in for 1 to 2 minutes before moving onto serums/moisturizers. For best benefits, use as part of your regular skincare routine, morning and night.

Pro Tip: No need to put this on your hands then your face! Use the dropper to apply directly to your cheekbones so you're not wasting any product on your hands.

We like to apply our serum directly after toning while our skin is still damp for extra hydration retention.

Storage: Keep your serum in a dry, cool place and out of direct sunlight.
Warnings

Our Bamboo Hyaluronic Acid Serum is formulated to be gentle on all skin types, however, if you experience a sensitizing reaction, please discontinue use immediately.
Packaging

We hope you are able to reuse your glass bottle many times over, however, if you find that it just doesn't meet your needs, please clean and recycle.
View full details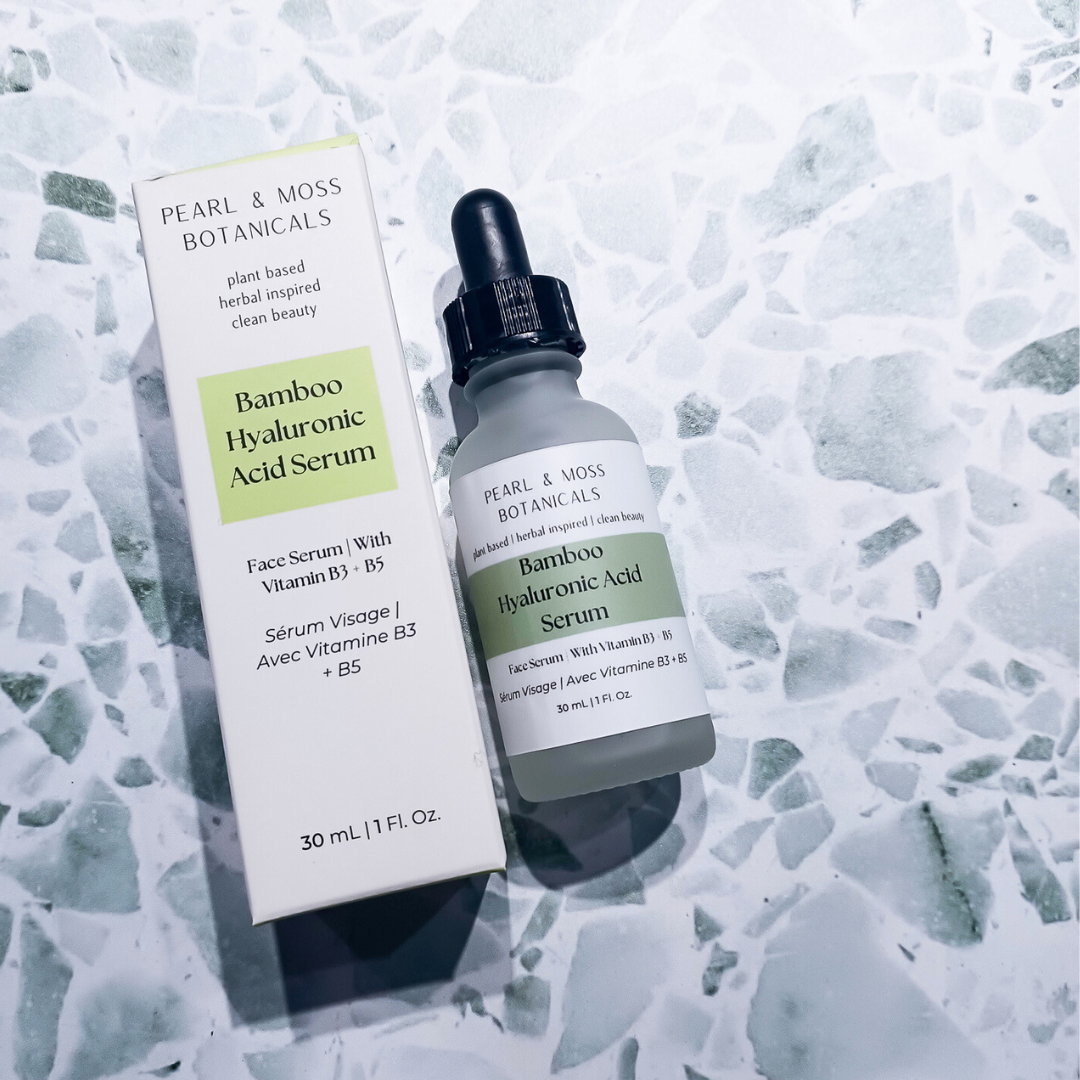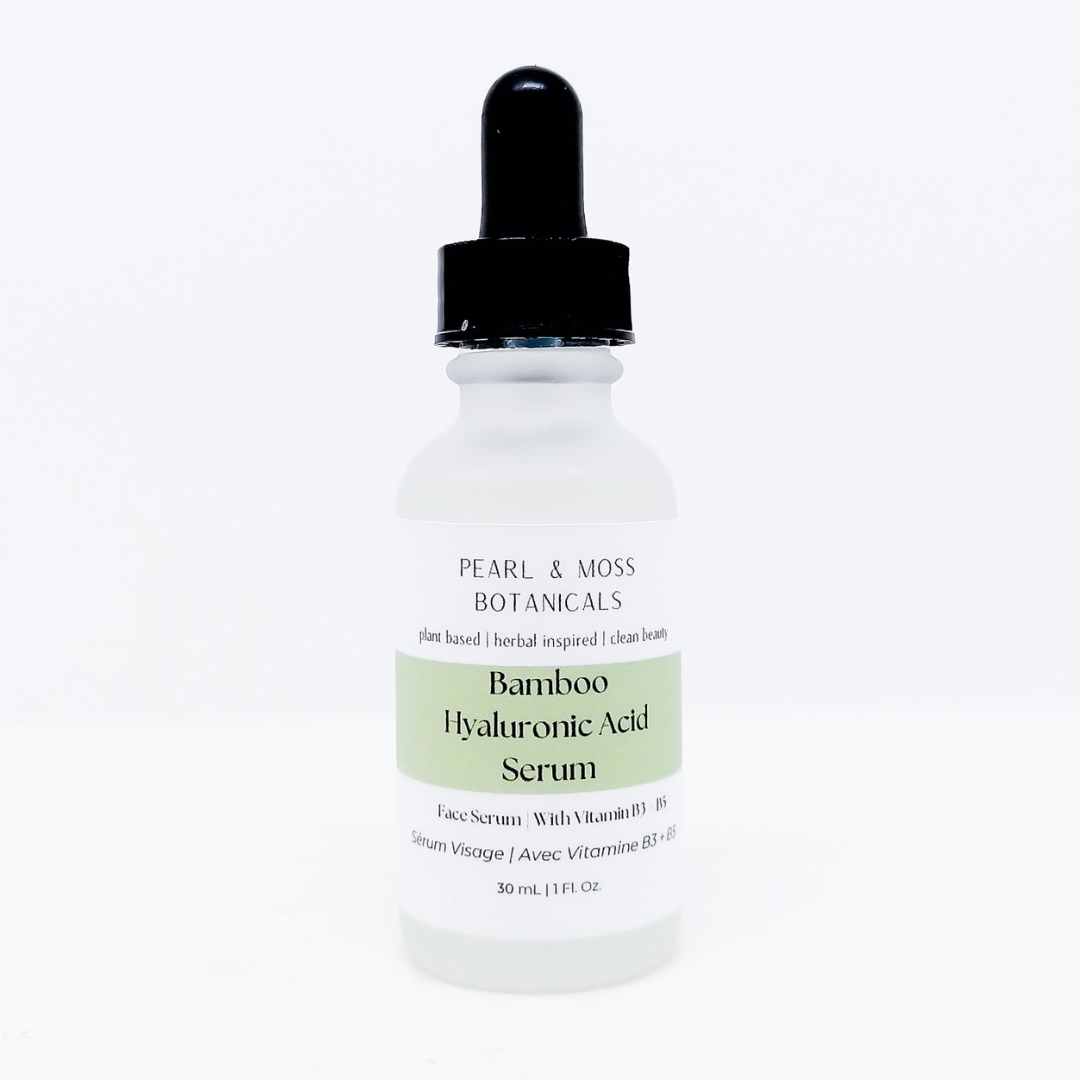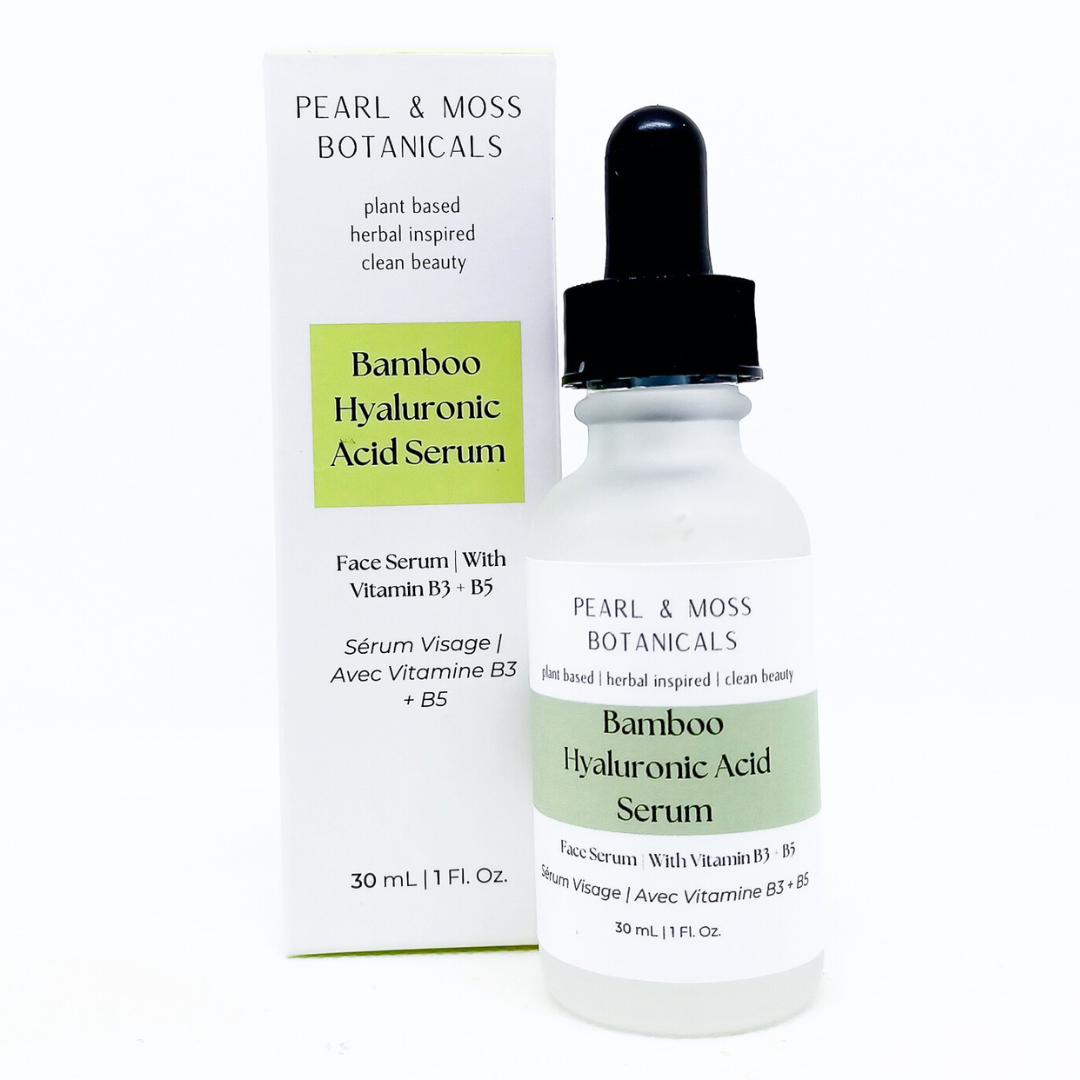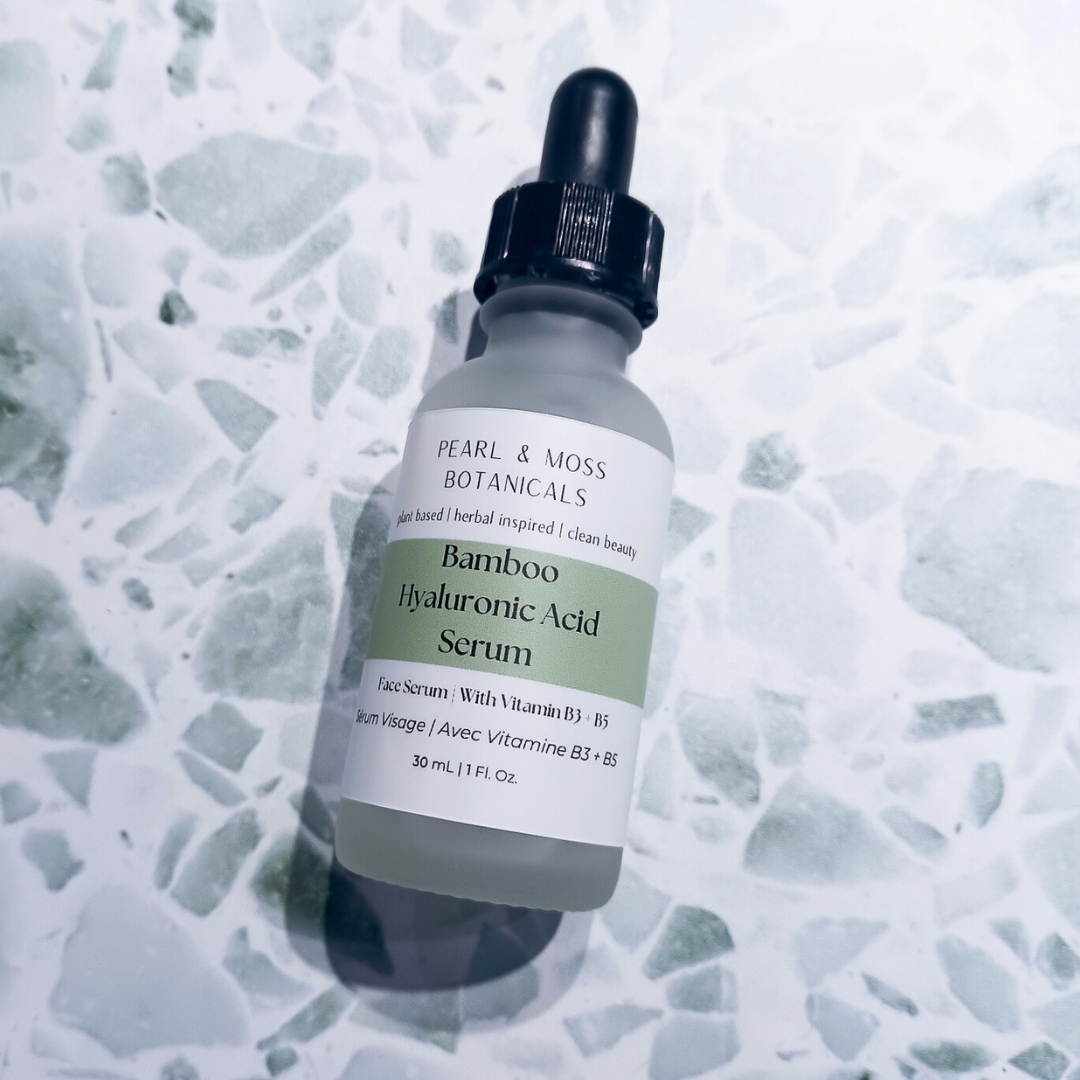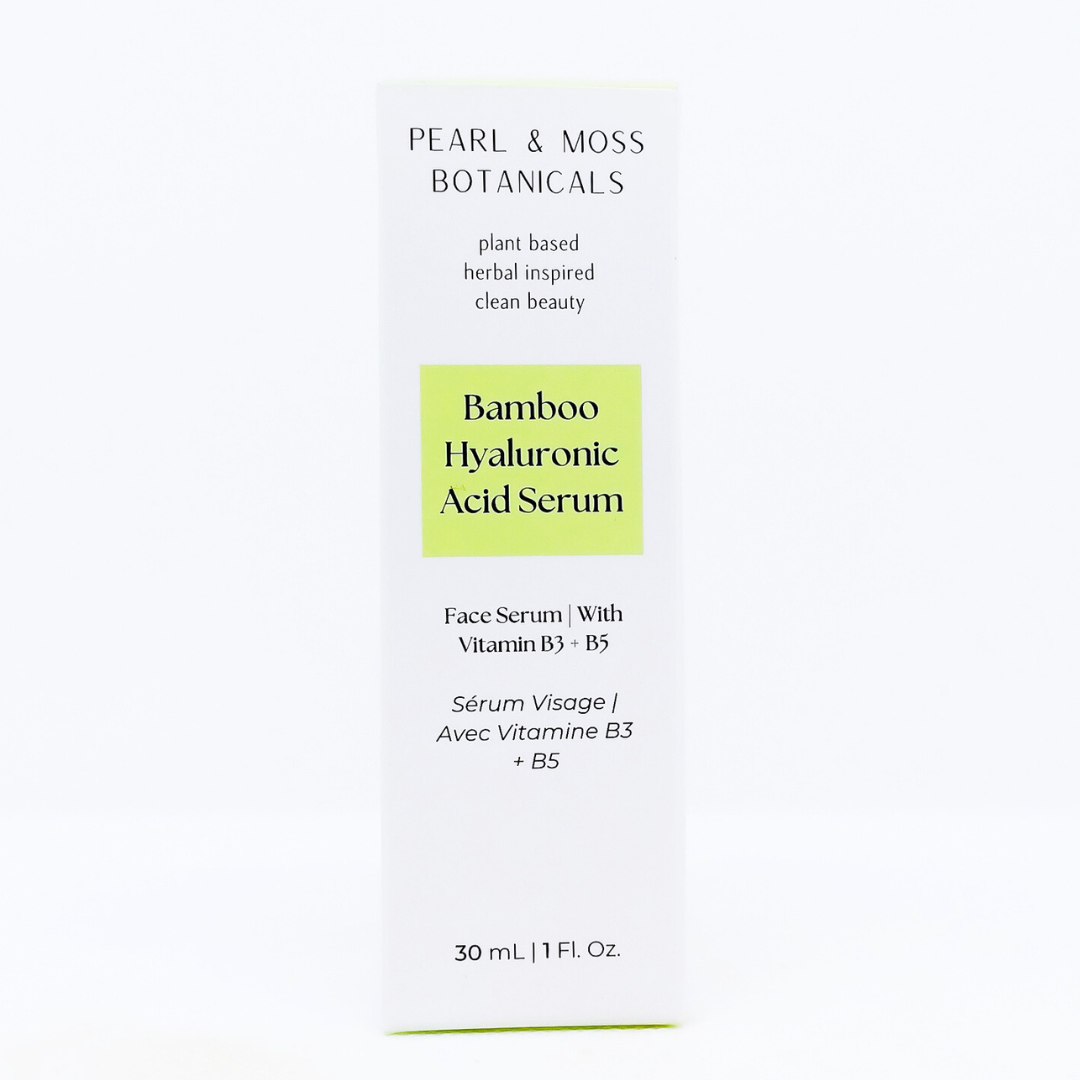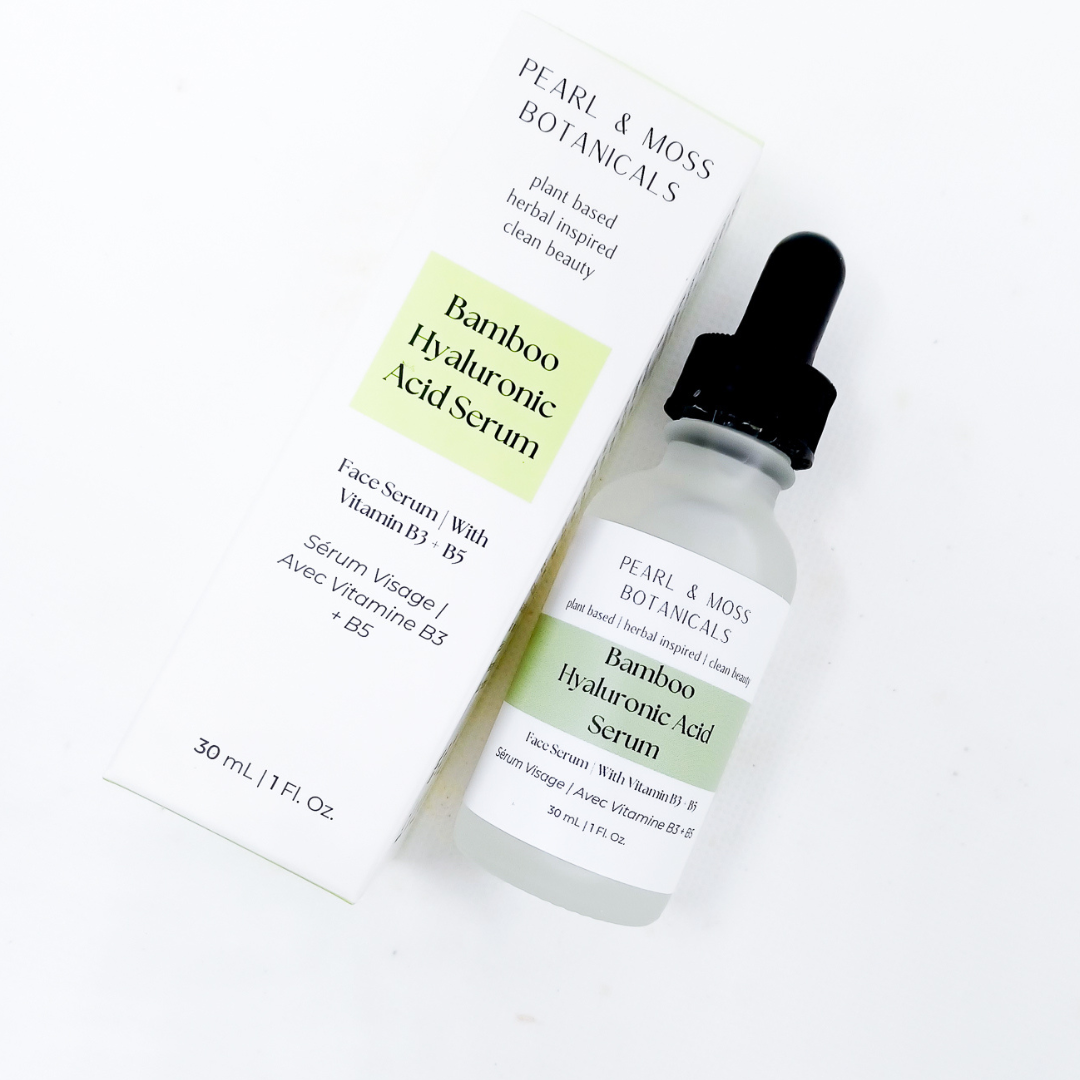 "we choose to create thoughtfully formulated, nature-based products that are good to our bodies and the planet."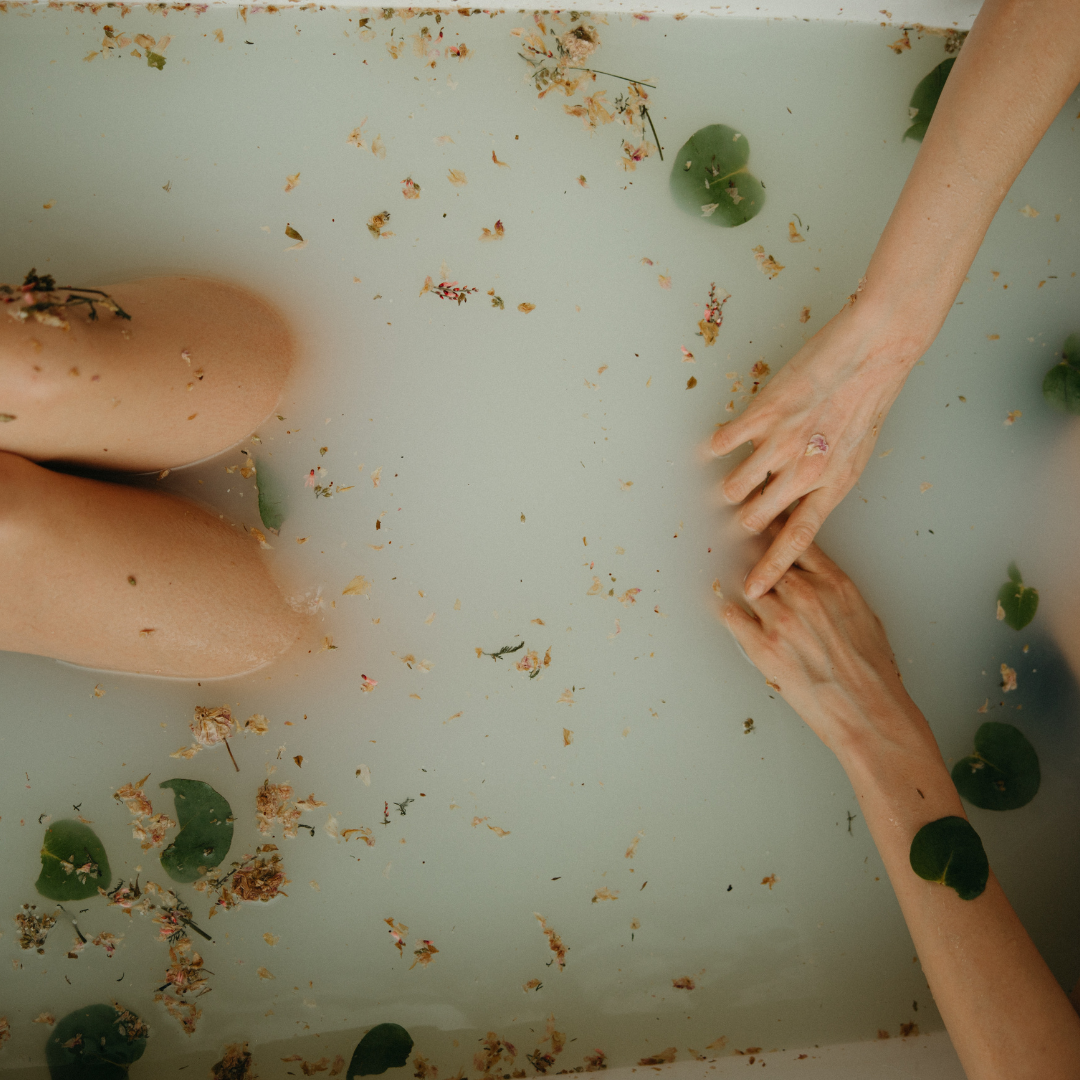 capture clean.
at Pearl & Moss, we work hard to create products that benefit our skin, while still being mindful of the environment. that's why we always cross reference the Environmental Working Group (EWG) Skin Deep Database to ensure what goes onto your body is good enough to go into the plant as well.