Regular price
Sale price
$25.00 USD
Unit price
per
Sale
Sold out
The Brow + Beard Oil is the ultimate grooming elixir designed to transform your facial hair and brows into a true statement of style and health. Crafted with nature's finest ingredients, featuring Argan Oil, Jojoba Oil, herbal-infused Hemp Seed Oil, and Vitamin E Oil, to deliver nourished and moisturized brows and beards.
The herbal infusion featured in the Brow + Beard Oil includes a blend of horsetail, burdock, rosemary, gotu kola, and lavender, a blend that invigorates hair follicles, strengthens roots and aids in creating the perfect environment for healthy growth and soothed skin.
Share
Ingredients

Ricinus Communis (Castor) Seed Oil, Equisetum Arvense (Horsetail) Herb*, Arctium Lappa (Burdock) Root*, Rosmarinus Officinalis (Rosemary) Herb*, Centella Asiatica (Gotu Kola) Herb*, Lavandula Angustifolia (Lavender) Flower* Infused Cannabis Sativa (Hemp) Seed Oil, Argania Spinosa (Argan) Kernel Oil, Simmondsia Chinensis (Jojoba) Seed Oil, Caprylic/Capric Triglyceride (MCT), Tocopherol (Vitamin E), Rubus Idaeus (Raspberry) Seed Oil | *Certified Organic | Sustainably Wildcrafted
The GOODS

Vitamin E Oil: Provides the skin with extra protection from environmental damages and helps to reduce the appearance of fine lines and scars.

Argan Oil: Rich in vitamin E, antioxidants and fatty acids essential for the promotion of healthy skin, argan oil is super moisturizing and has been known to help reduce the symptoms of inflammatory skin conditions.

Jojoba Oil: Nourishes, soothes and softens dry skin. Closely mimics the natural sebum of the skin and is rich in vitamin E.


Horsetail: Horsetail is full of antioxidants that help reduce damage caused by free radicals, like the aging of hair fibres! As an anti-inflammatory, horsetail helps reduce microinflammation in the hair follicles, improving circulation of the blood, increasing levels of stimulation, and generating greater cell turnover.The high levels of silica in horsetail help to strengthen connective tissue and promote greater collagen regeneration.

Burdock: Assists with breakout prone skin and irritable skin conditions like eczema and dandruff, as well as topical burns. Contains the amino acids necessary for building keratin - the protein that helps to build hair! Burdock also contains vitamin A and essential fatty acids, which can help to nourish the scalp and strengthen hair, restoring softness.

Rosemary: The holy grail in hair care, rosemary is promoted for its encouragement of hair growth. As a majorly stimulating herb, rosemary encourages hair growth by improving blood flow to the scalp, promoting strong, healthy hair, and adding shine.

Gotu Kola Leaf: Exceptionally high in antioxidants, gotu kola assists with combating signs of aging like dry skin, fine lines, wrinkles, and dull skin.

Lavender: Especially soothing, lavender is an excellent aid for all skin conditions, specifically dry, sensitive or mature skin, and dry hair and scalp conditions, by providing relief to itchy skin. The use of lavender can also promote collagen production, which can assist with wound repair and tissue growth, cell regeneration and healthy skin and hair follicles.
Tips & FAQs

Usage: Use one treatment pump of oil in palm to apply with finger tips to brows. Massage gently for 20 - 30 seconds per brow. For beards, apply 1 - 3 pumps (or as desired) onto fingers/palms. Spread and massage directly onto the beard. Comb and style as usual. Apply as frequently as desired.

Pro Tip: The brow + beard oil works wonders when used over top of moisturized skin at night to aid at locking in moisture and relieving dry skin spots.

Storage: We suggest storing your oil at room temperature in a cool, dark place. Your bathroom cupboard is perfect!
Warnings

Our Brow + Beard Oil is formulated to be gentle with the skin, however, if you find you are experiencing sensitization, discontinue use immediately.
Packaging

If you cannot find a use for your glass treatment pump bottle, please recycle individual pieces appropriately.
View full details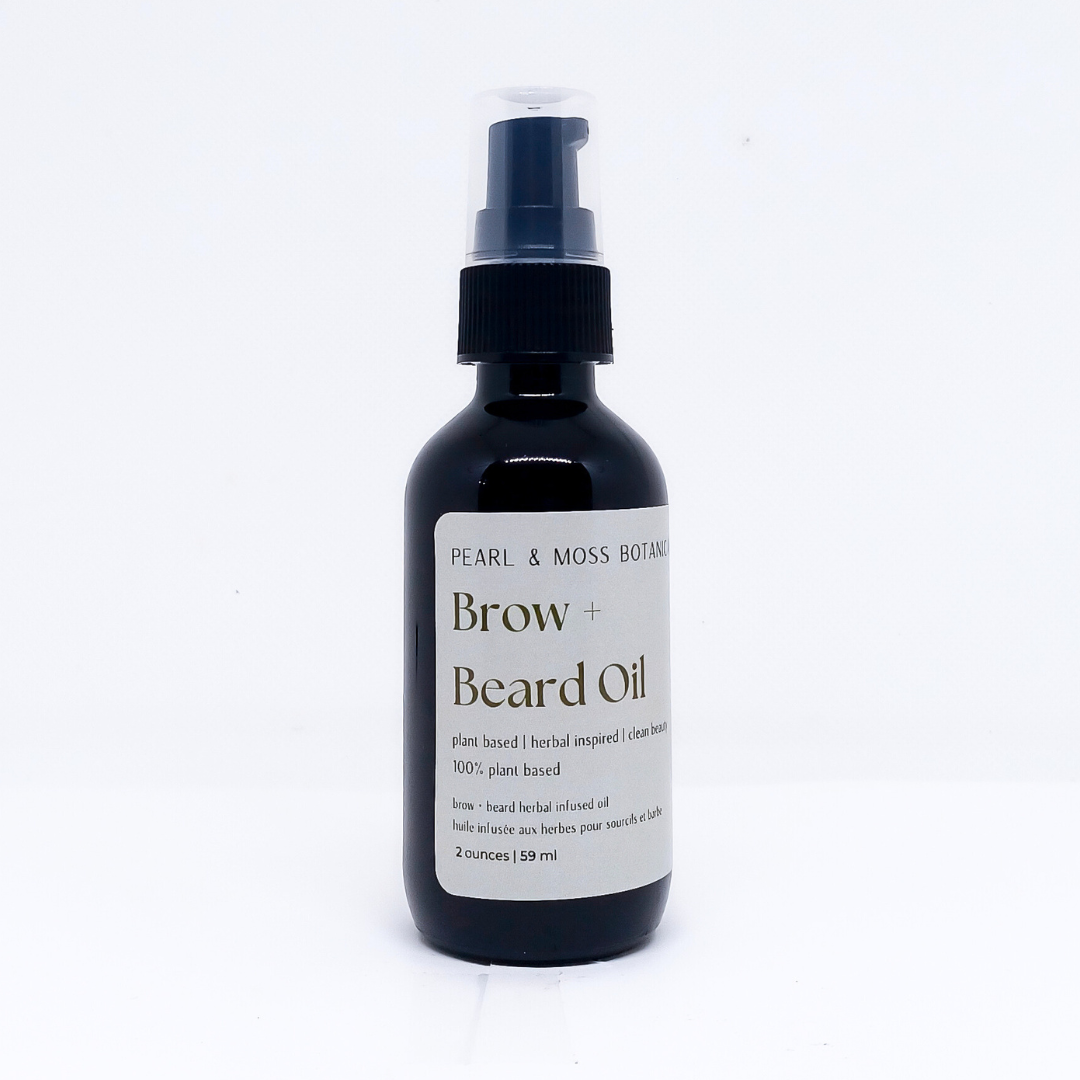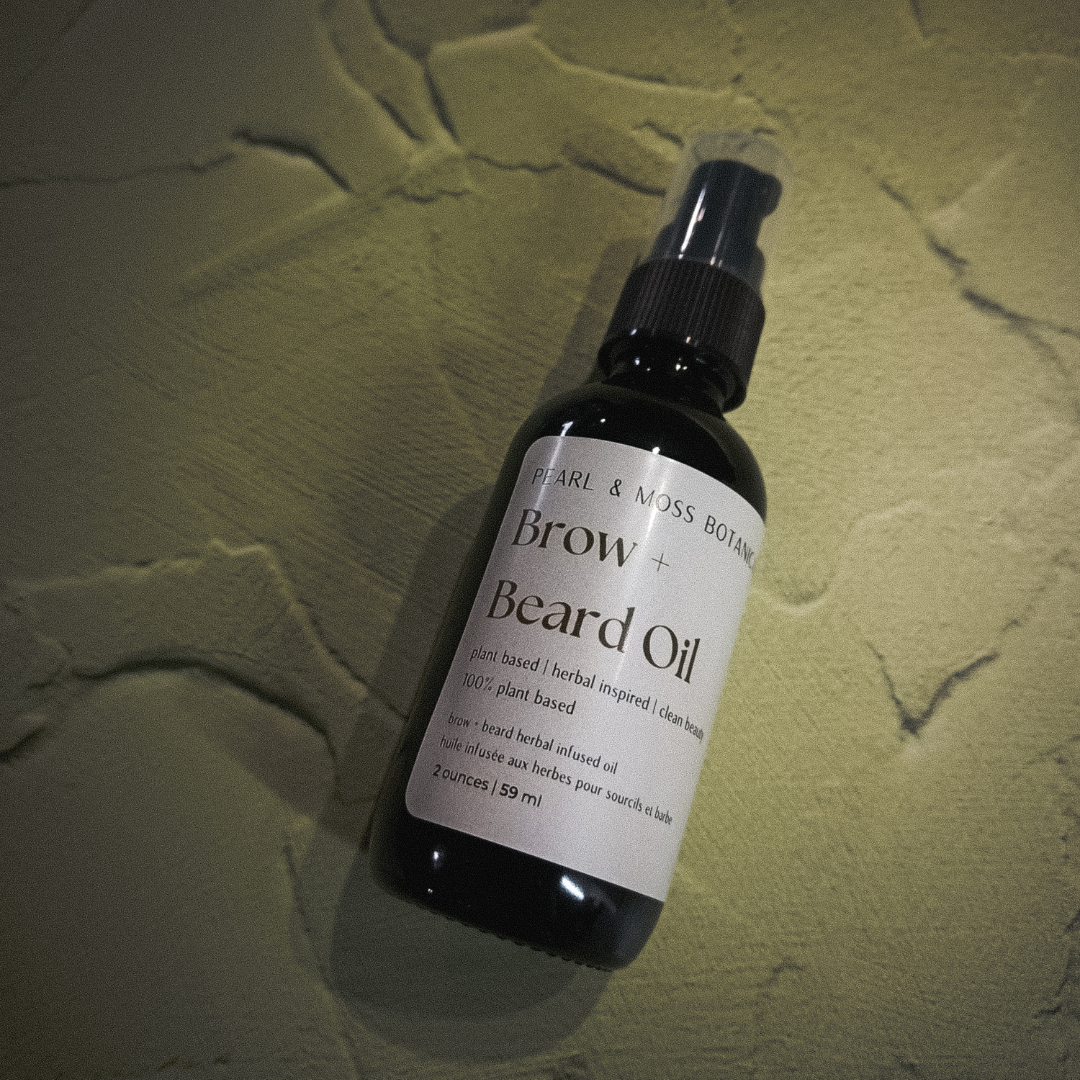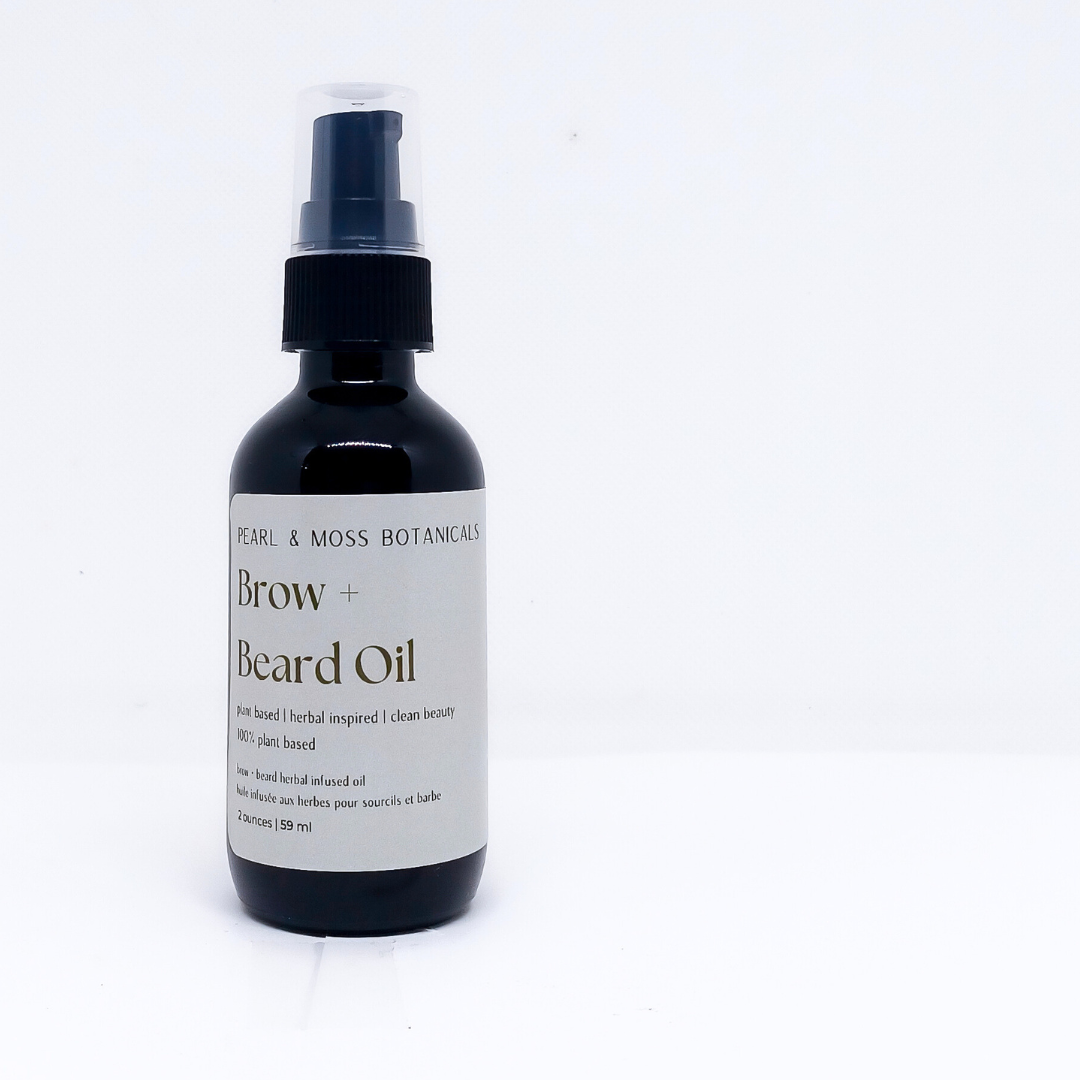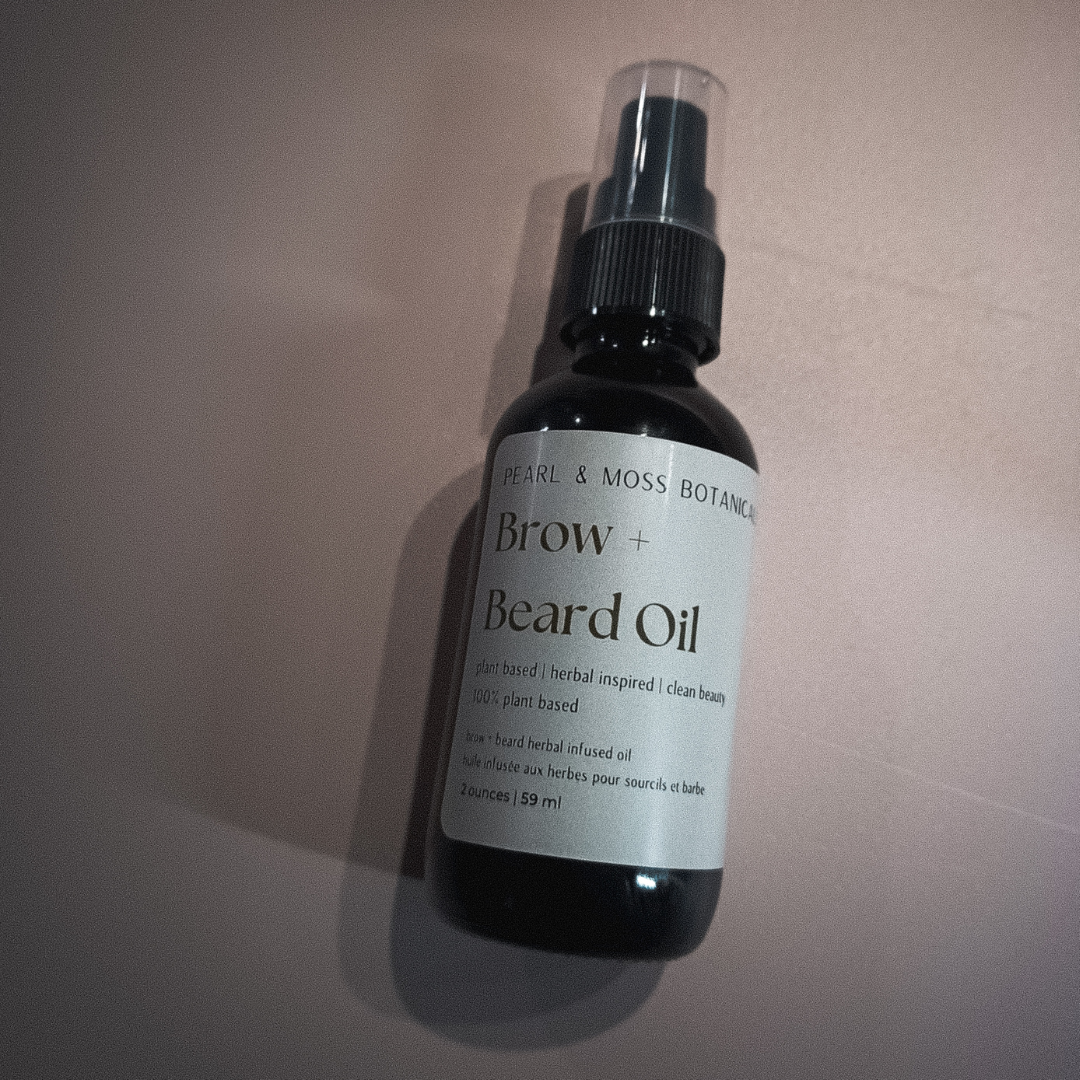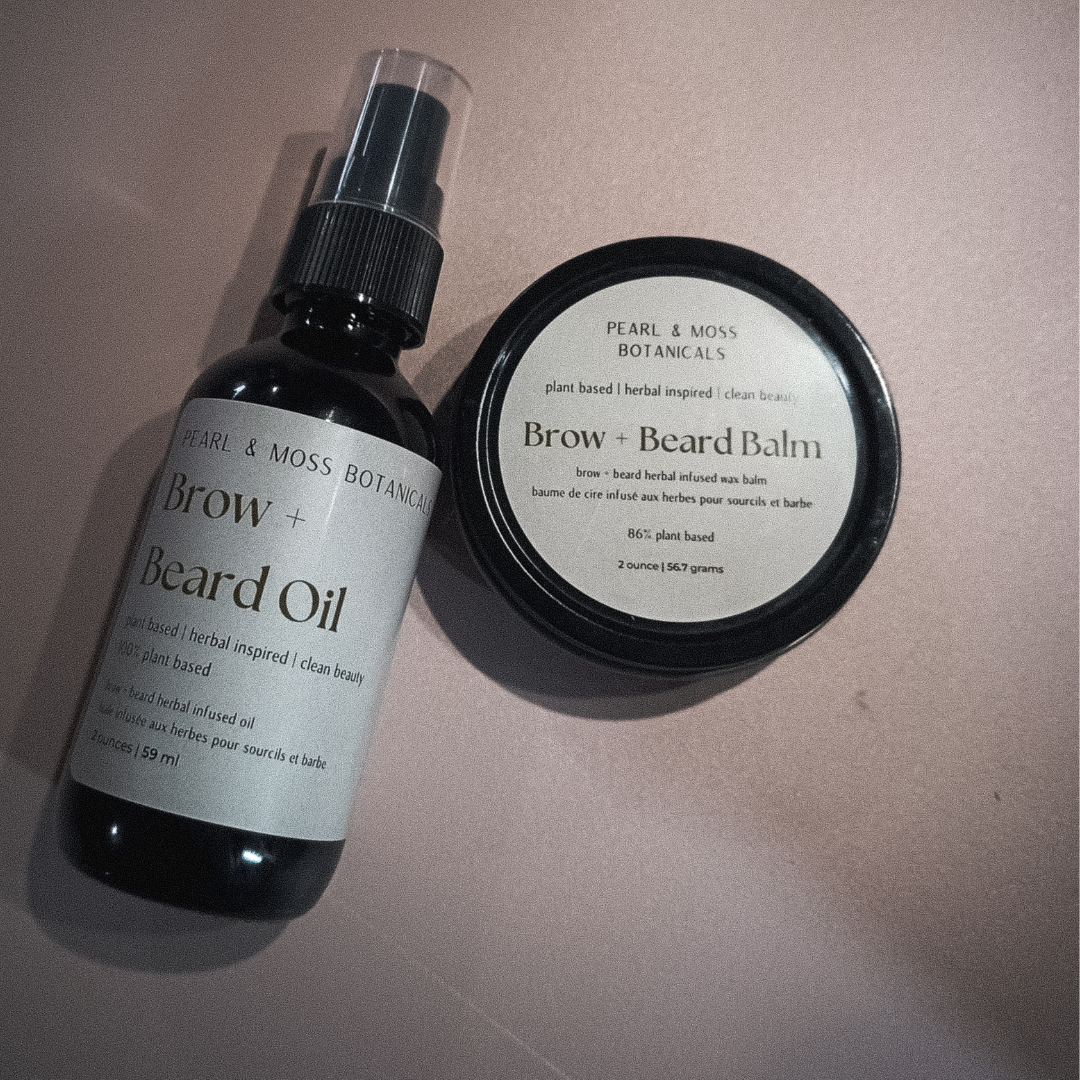 "we choose to create thoughtfully formulated, nature-based products that are good to our bodies and the planet."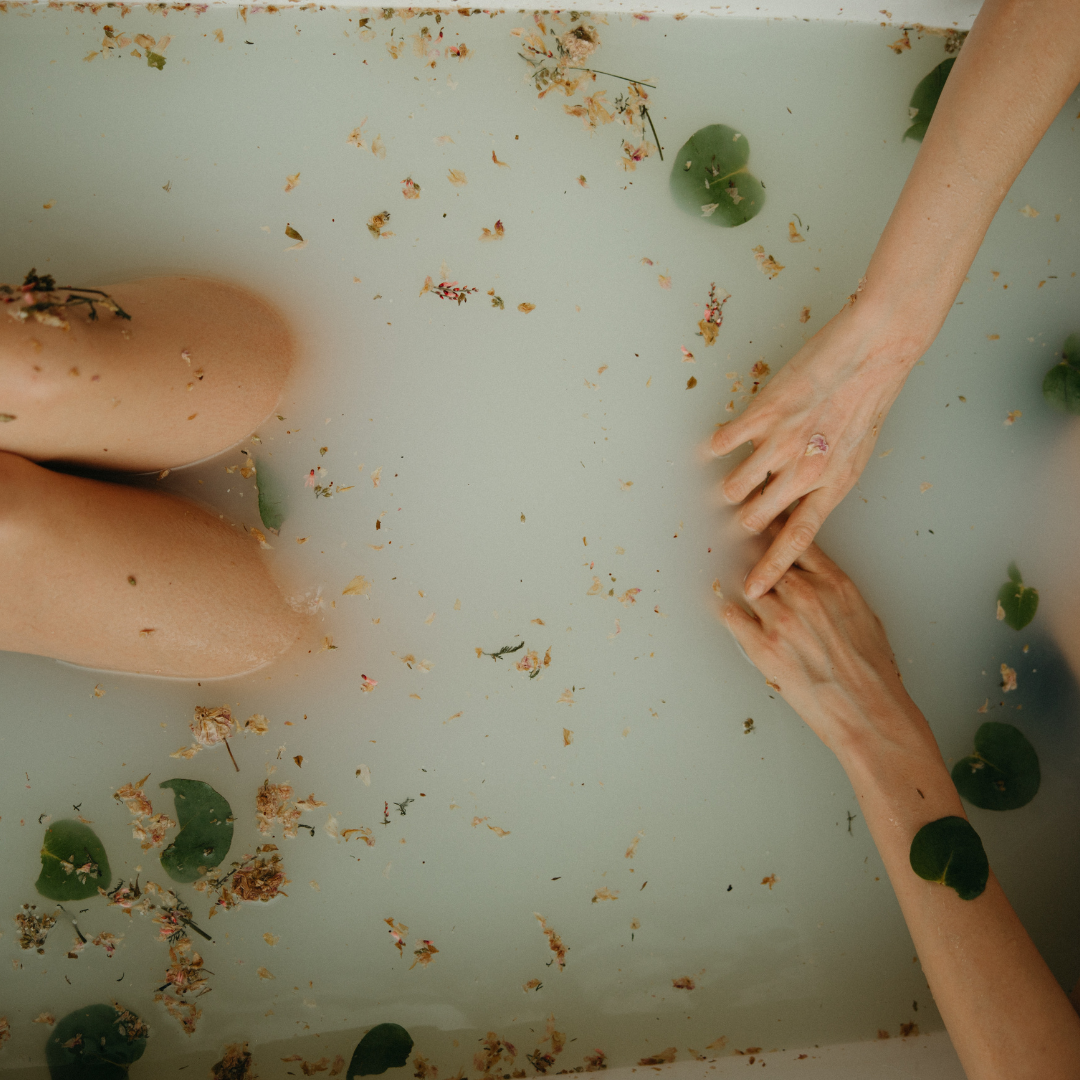 capture clean.
at Pearl & Moss, we work hard to create products that benefit our skin, while still being mindful of the environment. that's why we always cross reference the Environmental Working Group (EWG) Skin Deep Database to ensure what goes onto your body is good enough to go into the plant as well.