CALENDULA + ROSE + LAVENDER + HIBISCUS + HOPS + JASMINE

A soft blend of botanicals specifically designed to work alongside hot water to open pores and soothe the skin. Used as a facial steam, botanicals rich in nutrients work with steam to open pores and allow skin to drink up the soothing, hydrating properties of healing flowers. When used as a bath tea, may you soak in a tranquil, aromatherapeutic experience, leaving your skin softened, muscles soothed, and tension lifted.

FLORA is a beautiful bath option as a postpartum ritual but should be avoided during pregnancy due to the containment of hops flowers.

All FLORA products come with a 4" x 6" cotton drawstring bag.

Share
Ingredients

Hibiscus (Hibiscus) Sabdariffa Flower, Lavandula Angustifolia (Lavender) Flower, Rosa Centifolia (Rose) Flower, Calendula Officinalis (Calendula) Flower, Jasminum (Jasmine) Officinale Flower, Humulus (Hops) Lupulus Flower
The GOODS

Calendula: Gentle, anti-Inflammatory, antibacterial, antifungal and skin soothing.

Hibiscus: High in vitamin C and antioxidants, hibiscus assists with cleansing, hydrating and toning pores.

Hops: Highly purifying, relaxing and assists with aiding the relief of stress and tension in body/facial muscles. Hops are hydrating, cooling and anti-inflammatory.

Jasmine Flower: Antibacterial and anti-inflammatory. Jasmine helps to promote stress relief throughout the body with its aromatherapeutic benefits.

Lavender: Calming, balancing and restorative. Assists with relieving stress, anxiety and tension. Beneficial for itchy, dry skin.

Rose Petal: Anti-inflammatory, astringent and helps relieve nervous tension. Promotes skin hydration and circulation.
Tips & FAQs

Usage (as a Facial Steam): Add one scoop of botanicals to cotton bag and close tightly. Add cotton bag to a bowl of freshly boiled water. Sit with head over top of bowl and towel draped over top to enclose steam. Sit for 8 to 10 minutes to allow steam to open pores and botanicals to soothe and soften the skin. Follow up with your regular cleansing routine,  or toner application. Botanicals may be composted after use and cotton bag may be washed and hung to dry. Facial steams may be performed 1 to 2 times per week to allow for sufficient time for pores to close. 

Usage (as a Bath Tea): Add two scoops of botanicals to cotton bag and close tightly. Hang cotton bag from your bath faucet or place cotton bag in the bottom of the tub while filling with warm/hot water. Soak, relax and allow botanical nourishment to seep into your pores. Be sure to wipe down the tub after draining as some botanicals may leech colour and leave marks (but will not stain if wiped down immediately after). Botanicals may be composted after use and cotton bag may be washed and hung to dry.

Storage: Store closed in a cool, dry place away from sunlight. Use within 12 months of opening.
Warnings

Do not use if you have open cuts or wounds. Store in a cool, dry place away from sunlight. Use within 12 months of opening.
Packaging

Please take care to wash your glass jars before recycling, or up-cycle them for your other favourite things!

Cotton bags can be washed and reused many times. They can also be repurposed to hold jewellery, loose buttons or seeds! (or, of course, anything else that suits your needs!)
View full details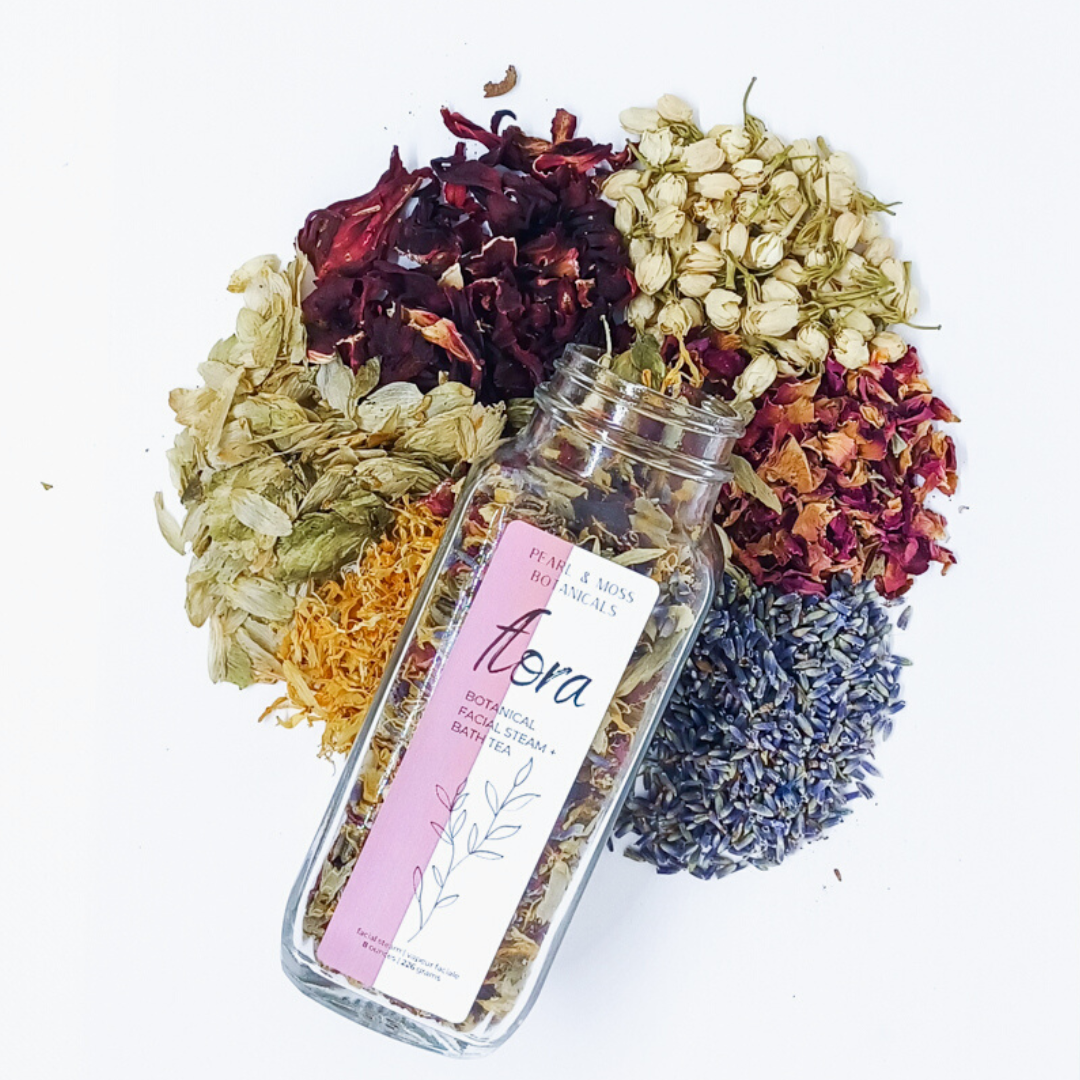 "we choose to create thoughtfully formulated, nature-based products that are good to our bodies and the planet."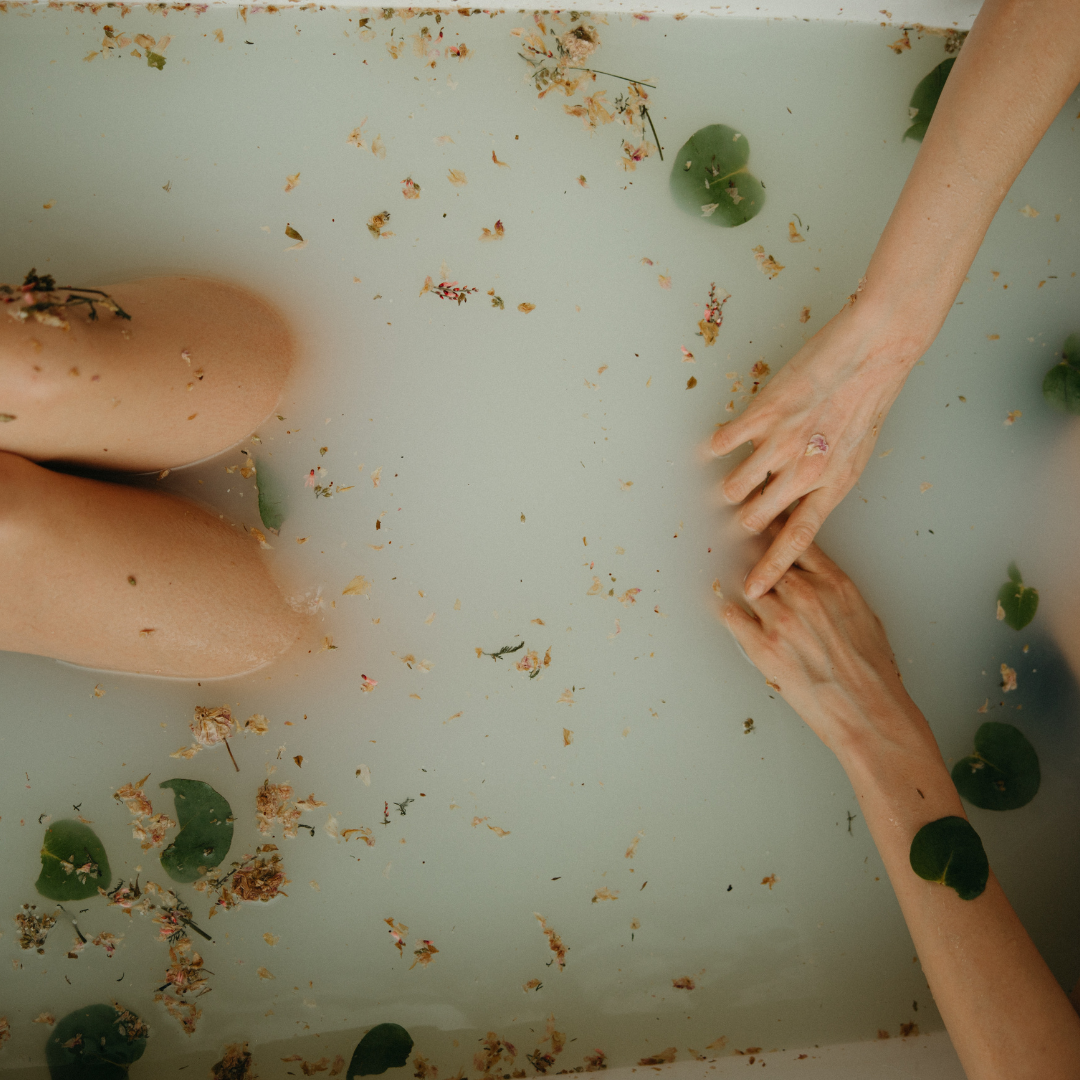 capture clean.
at Pearl & Moss, we work hard to create products that benefit our skin, while still being mindful of the environment. that's why we always cross reference the Environmental Working Group (EWG) Skin Deep Database to ensure what goes onto your body is good enough to go into the plant as well.