Regular price
Sale price
$19.00 USD
Unit price
per
Sale
Sold out
BLUE TANSY + MCT: Hydrating and soothing, the Blue Tansy + MCT Collection offers antioxidant and antibacterial properties to help keep skin inflammation down and breakouts at bay. Perfect for all skin types, the Blue Tansy + MCT Collection works well for even the most sensitive skin concerns, providing relief from redness and excess oil production.


Put your best face first with the Morning Dew Daily Hydrating Facial Moisturizer. Formulated to provide rich moisture, this lightweight daily facial lotion provides lasting hydration for softer, smoother skin.
Share
Ingredients

Aqua (Water), Prunus Armeniaca (Apricot) Kernel Oil, Mangifera Indica (Mango) Seed Butter, Emulsifying Wax NF, Stearic Acid, Aloe Barbadensis (Aloe Vera) Leaf Juice, Theobroma Cacao (Cocoa) Seed Butter, Caprylic/capric triglyceride (MCT), Linum Usitatissimum (Flax) Seed Oil*, Camellia Oleifera (Camellia) Seed Oil, Lavandula Angustifolia Whole Plant Extract (and) Propanediol (Lavender Extract), Glycerine, Tocopherol (Vitamin E Oil), Echinacea Purpurea (and) Propanediol (Echinacea Extract), Benzyl Alcohol (and) Salicylic Acid (and) Glycerine (and) Sorbic Acid (Geogard ECOCert Preservative), Simmondsia Chinensis (Jojoba) Seed Oil, Tanacetum Annuum (Blue Tansy) Flower Oil, Citrus Aurantium (Neroli) Flower Oil | *Certified Organic
The GOODS

MCT Oil: Quickly and easily penetrates the skin, acting as a carrier for other ingredients to provide therapeutic benefits further into the skin.

Blue Tansy Essential Oil: A powerful antioxidant, Blue Tansy is the holy-grail essential oil of skincare. Offering anti-inflammatory, antiviral, antibacterial and antifungal properties, this essential oil helps to reduce redness as well as calm and soothe skin, making it perfect for all skin types, especially those with sensitive skin concerns.

Flax Seed Oil: High in essential fatty acids and Vitamin E, Flax Seed Oil is extremely soothing for sensitive skin and has been known to improve skin elasticity.

Camellia Seed Oil: Easily absorbed into the skin, Camellia Seed oil is a powerful antioxidant, working against environmental stressors, giving it strong anti-aging properties while hydrating and protecting the skin.

Vitamin E Oil: Provides the skin with extra protection from environmental damages and helps to reduce the appearance of fine lines and scars.

Lavender Extract: Known to be soothing and rejuvenating, Lavender is gentle and calming for even the most sensitive skin, providing hydration and balance to sebum levels. Beneficial for damaged, dry and very oily skin, lavender extract is beneficial for all skin types.

Echinacea Extract: Filled with antioxidants, Echinacea extract is beneficial in providing protection for the skin while strengthening the skin and aiding in reducing the appearance of wrinkles.
Tips & FAQs

Usage: Apply a dime sized amount to your face by apply smaller dabs on your forehead, cheekbones, nose, and chin. Gentle massage into skin. Apply directly after serums and prior to applying sunscreen (AM) or oils (AM and/or PM).

Pro Tip: A small amount of cream goes a long way. Start with a small amount and add more if desired. If using over serums, you may experience a light "soaping" effect, meaning some spots of cream may take longer to soak into your skin on top of your serums. Lightly dab areas of cream that are not immediately soaking in.

Storage: Keep your cream in a dry cool place, out of direct sunlight. Your bathroom cupboard is perfect!
Warnings

Our Morning Dew Daily Hydrating Facial Moisturizer is formulated to be gentle on all skin types, however, if you experience a sensitizing reaction, please discontinue use immediately.
Packaging

We hope you are able to reuse your glass bottle many times over, however, if you find that it just doesn't meet your needs, please clean and recycle. 
View full details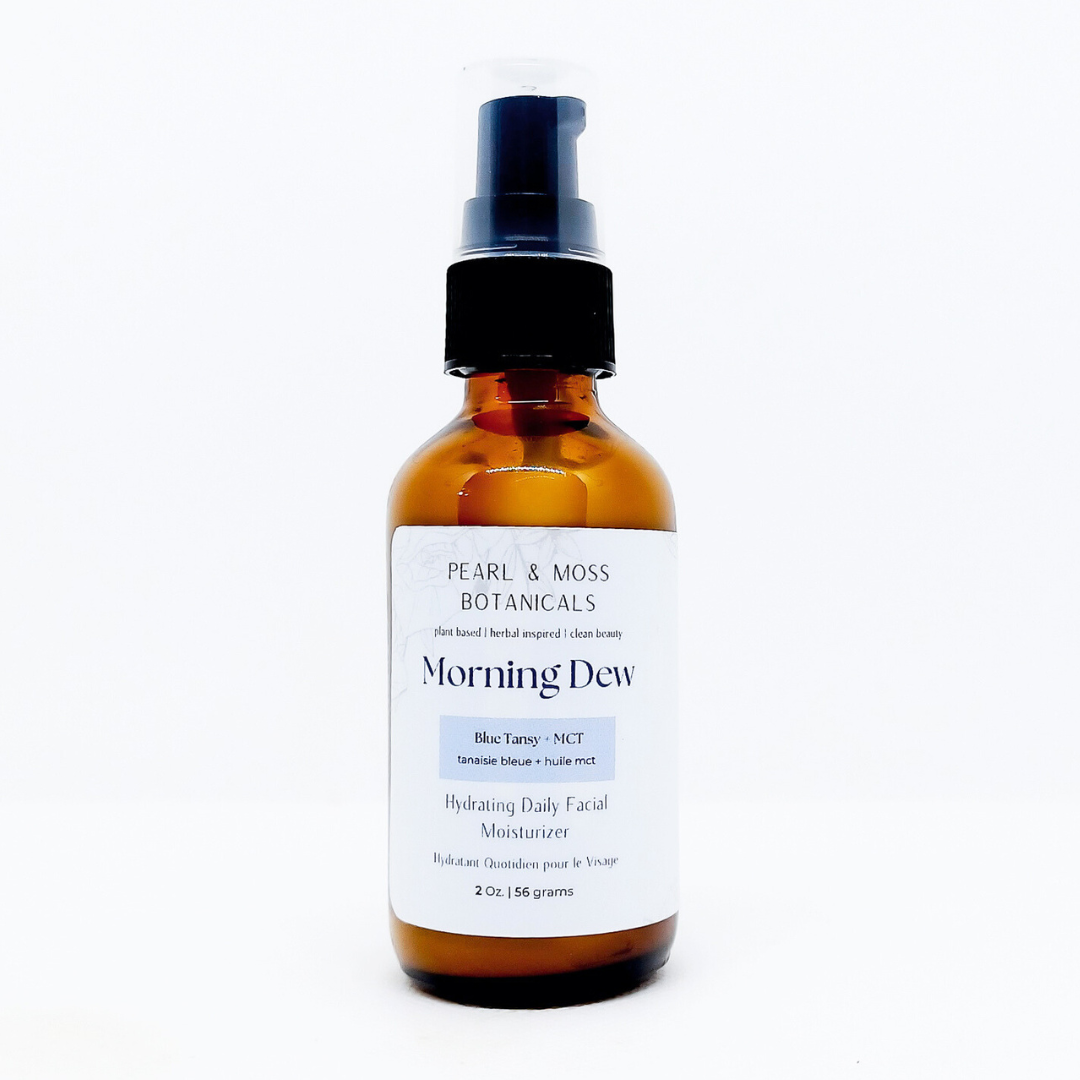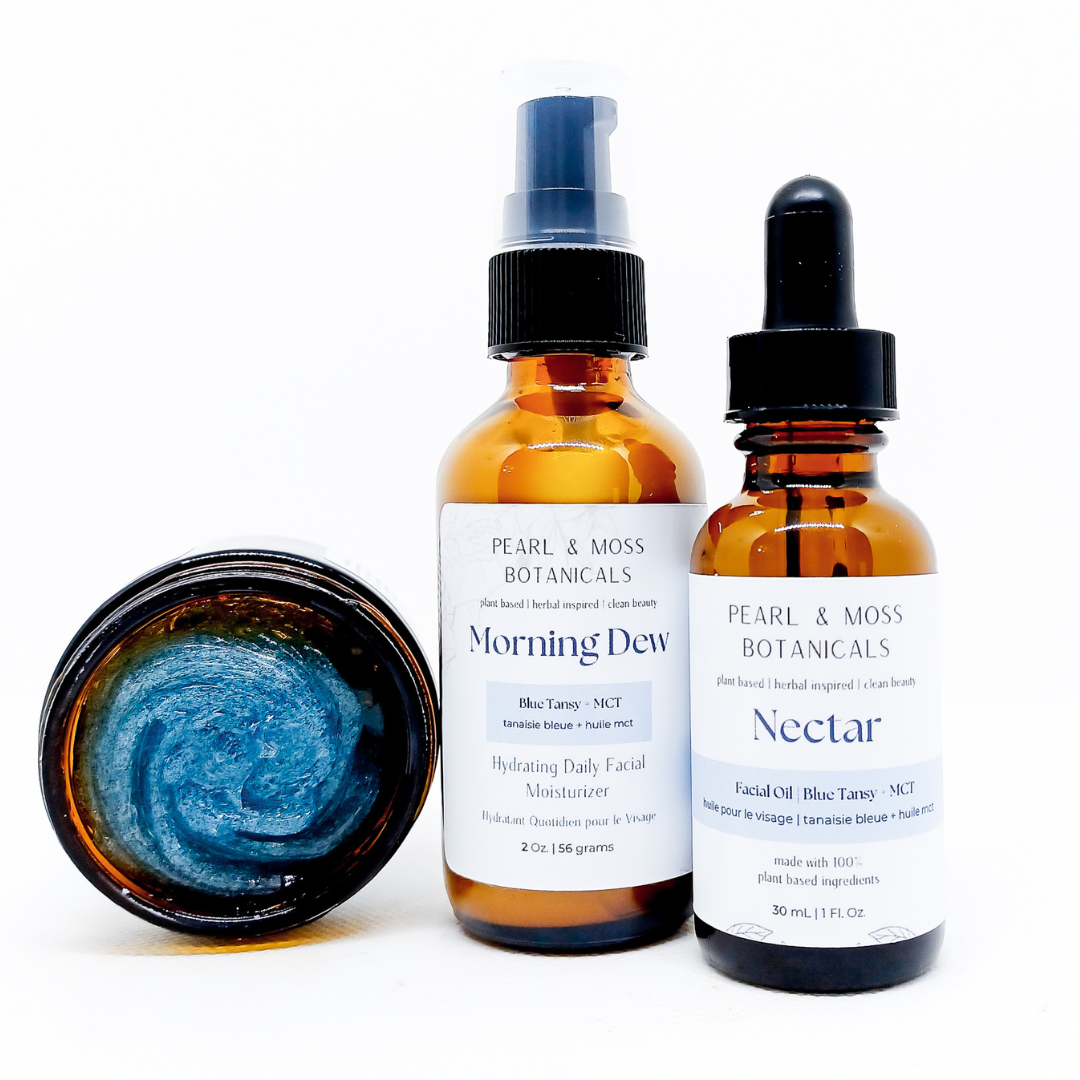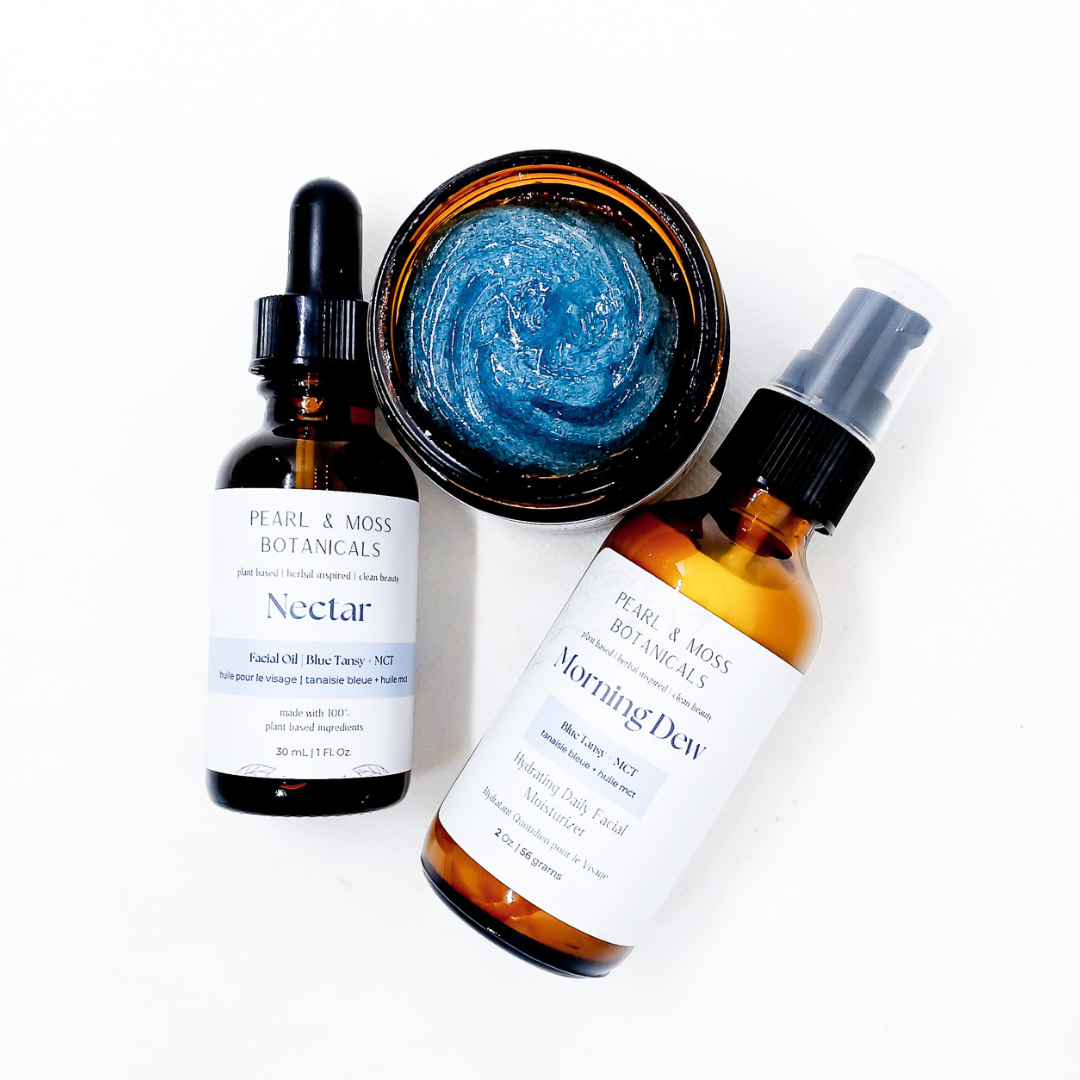 "we choose to create thoughtfully formulated, nature-based products that are good to our bodies and the planet."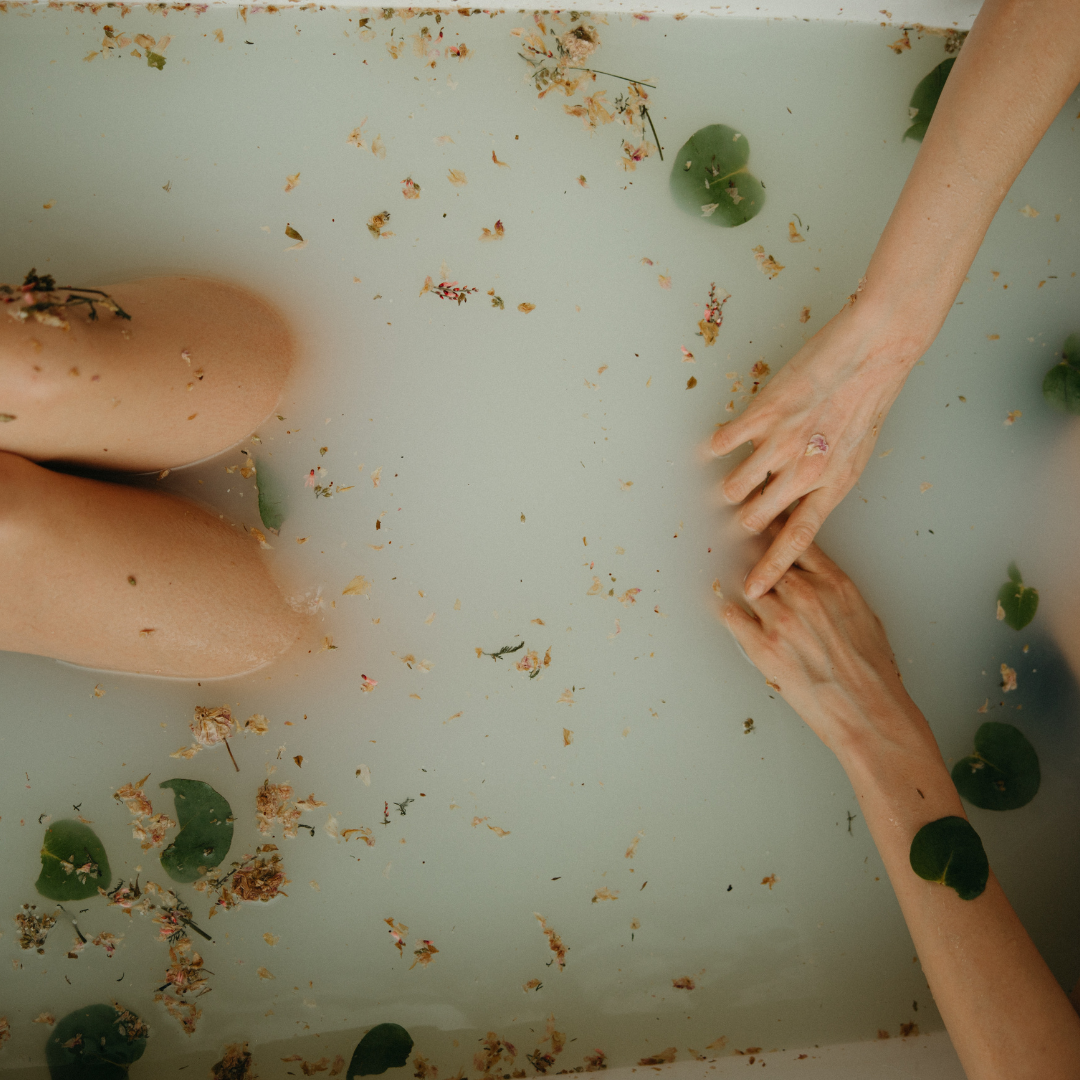 capture clean.
at Pearl & Moss, we work hard to create products that benefit our skin, while still being mindful of the environment. that's why we always cross reference the Environmental Working Group (EWG) Skin Deep Database to ensure what goes onto your body is good enough to go into the plant as well.