Regular price
Sale price
$22.00 USD
Unit price
per
Sale
Sold out
FRESH: Lavender + Peppermint + Lemongrass



Scented with calm and uplifting lavender, peppermint and lemongrass essential oils, o

ur ACV Hair Rinse is made with raw apple cider vinegar (pardon the active culture in the bottle!) and infused with hair-happy herbs like 

horsetail, rosemary, nettle, burdock, lavender, and marshmallow root.

 

We also add panthenol (Pro-Vitamin B5) and Plant Keratin to ensure you're getting the smoothest, silkiest hair you can get.
Share
Ingredients

Rosmarinus Officinalis (Rosemary) Leaf*, Equisetum arvense (Horsetail) Aerial Parts*, Urtica Dioica (Nettle) Leaf*; Arctium Lappa (Burdock) Root*; Althaea Officinalis (Marshmallow) Root*; Lavandula Angustifolia (Lavender) Flower*; Infused Vinegar (Apple Cider Vinegar), Caprylyl/Capryl Glucoside, Aqua/Water &Wheat Amino Acids & Soy Amino Acids & Arginine HCl & Serine & Threonine(Plant Keratin), DL-Panthenol (Pro-Vitamin B5), Lavandula Officinalis (Lavender) Flower Oil, Mentha Arvensis (Peppermint) Leaf Oil, Cymbopogon Flexuosus (Lemongrass) Herb Oil

*Certified Organic/Sustainably Wildcrafted Ingredient
The GOODS

Raw ACV (Apple Cider Vinegar): ACV balances hair and scalp pH. When we lower the pH of our scalp into a more acidic rage, similar to the pH it would be in its balanced state, ACV can flatten and close the hair cuticle. This makes your hair smooth, less frizzy, easier to detangle, and less prone to damage. Not to mention the *S H I N E*

Plant Keratin: Plant Keratin helps to improve the elasticity and strength of individual hairs. It helps to reduce frizz, leaving hair smooth and silky.

Panthenol (ProVitamin B5): Revered for its hydrating, moisturizing, and protective properties in both hair care and skin care.

Rosemary: The holy grail in hair care, rosemary is promoted for its encouragement of hair growth. As a majorly stimulating herb, rosemary encourages hair growth by improving blood flow to the scalp, promoting strong, healthy hair, and adding shine.

Horsetail: Horsetail is full of antioxidants that help reduce damage caused by free radicals, like the aging of hair fibres! As an anti-inflammatory, horsetail helps reduce microinflammation in the hair follicles, improving circulation of the blood, increasing levels of stimulation, and generating greater cell turnover.The high levels of silica in horsetail help to strengthen connective tissue and promote greater collagen regeneration.

Nettle: Nettle is heralded as one of the best herbs for promoting strong and healthy hair. Used as a restorative hair tonic, nettle can help to improve scalp stimulation and circulation, giving hair the opportunity to grow.

Burdock: Assists with breakout prone skin and irritable skin conditions like eczema and dandruff, as well as topical burns. Contains the amino acids necessary for building keratin - the protein that helps to build hair! Burdock also contains vitamin A and essential fatty acids, which can help to nourish the scalp and strengthen hair, restoring softness.

Marshmallow Root: Conditions, softens and moisturizes the outer layers of the skin. Commonly known to help relieve redness and irritation..

Lavender: Especially soothing, lavender is an excellent aid for all skin conditions, specifically dry, sensitive or mature skin, and dry hair and scalp conditions, by providing relief to itchy skin. The use of lavender can also promote collagen production, which can assist with wound repair and tissue growth, cell regeneration and healthy skin and hair follicles.
Tips & FAQs

Usage: Combine 1 ounce of ACV Hair Rinse concentrate with approximately 8 ounces of water in a squeeze or spray bottle. Lightly shake to combine. Wet hair/scalp and gently apply to hair, starting at the scalp and combing through ends of hair. Leave in for 1 - 3 minutes. Rinse thoroughly or leave in and comb through for extra conditioning. Note: not all 8 ounces of diluted Hair Rinse may be necessary for an individual. We find it's best to start with 4 ounces and either move up or down based on your own needs.

We recommend using the ACV Hair Rinse as either:

A regular conditioning treatment

An occasional conditioning treatment

A shampoo substitute

When transitioning from commercial shampoos to a shampoo bar, it is recommended to use the ACV Hair Rinse following each shampooing until your "transition" phase has finished. A transition phase can last anywhere from 2 to 6 weeks and is dependent on several factors, including, but not limited to: hair thickness, length, condition (example: damaged, colour treated), and the individual constitution of the person (example: those with naturally oily hair may take longer to transition).

Pro Tip: Oily hair likes a little more and dry hair likes a little less.

Storage: Keep your ACV Hair Rinse out of direct light (your bathroom cupboard is perfect!).

TIP: Owner Sarah likes to fill up her 8 ounce reusable squeeze bottle (see our accessories page!) and leave it in the shower for whenever she'd like to use it, before filling it up again!
Use With

Check out our accessories to find yourself a reusable squeeze bottle!
Warnings

Our Hair Rinse is made with raw ACV - If you see some little things floating around, that's the goodness from the natural cultures that grow in unfiltered apple cider vinegar! Discontinue use if sensitization occurs. Rinse immediately if rinse streams into eyes.
Packaging

Please rinse and recycle your glass bottle. Or, reuse it for something else amazing!
View full details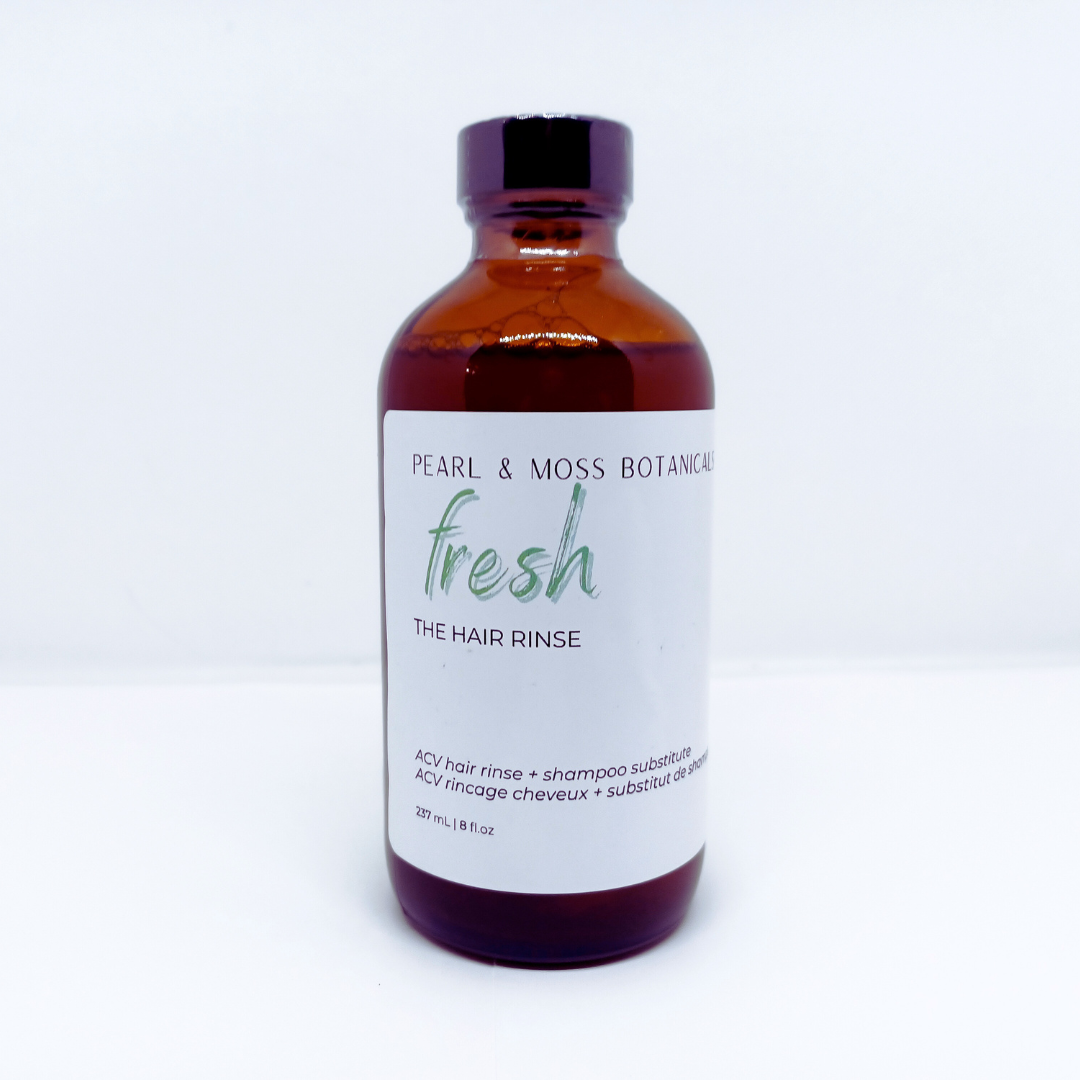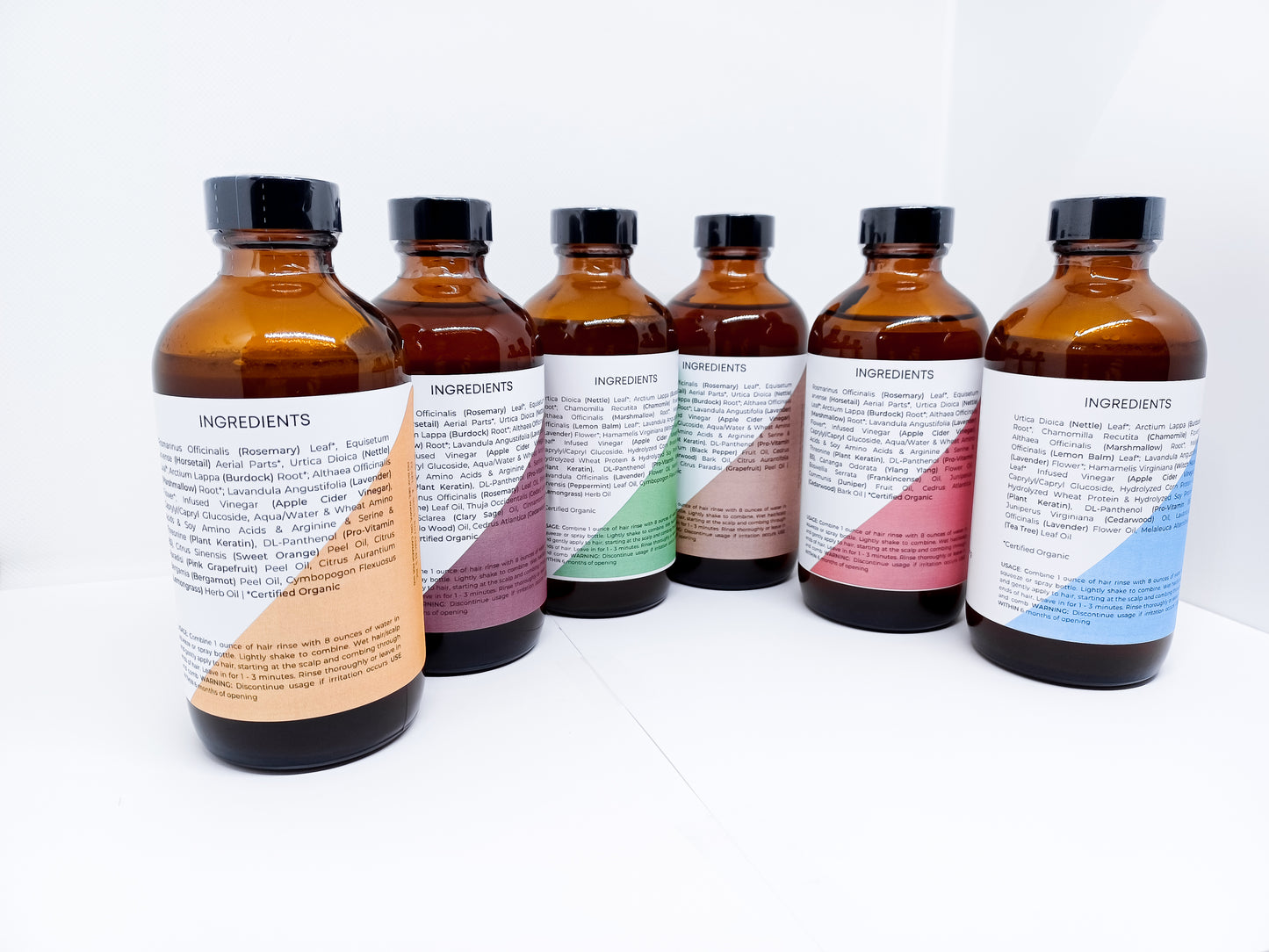 "we choose to create thoughtfully formulated, nature-based products that are good to our bodies and the planet."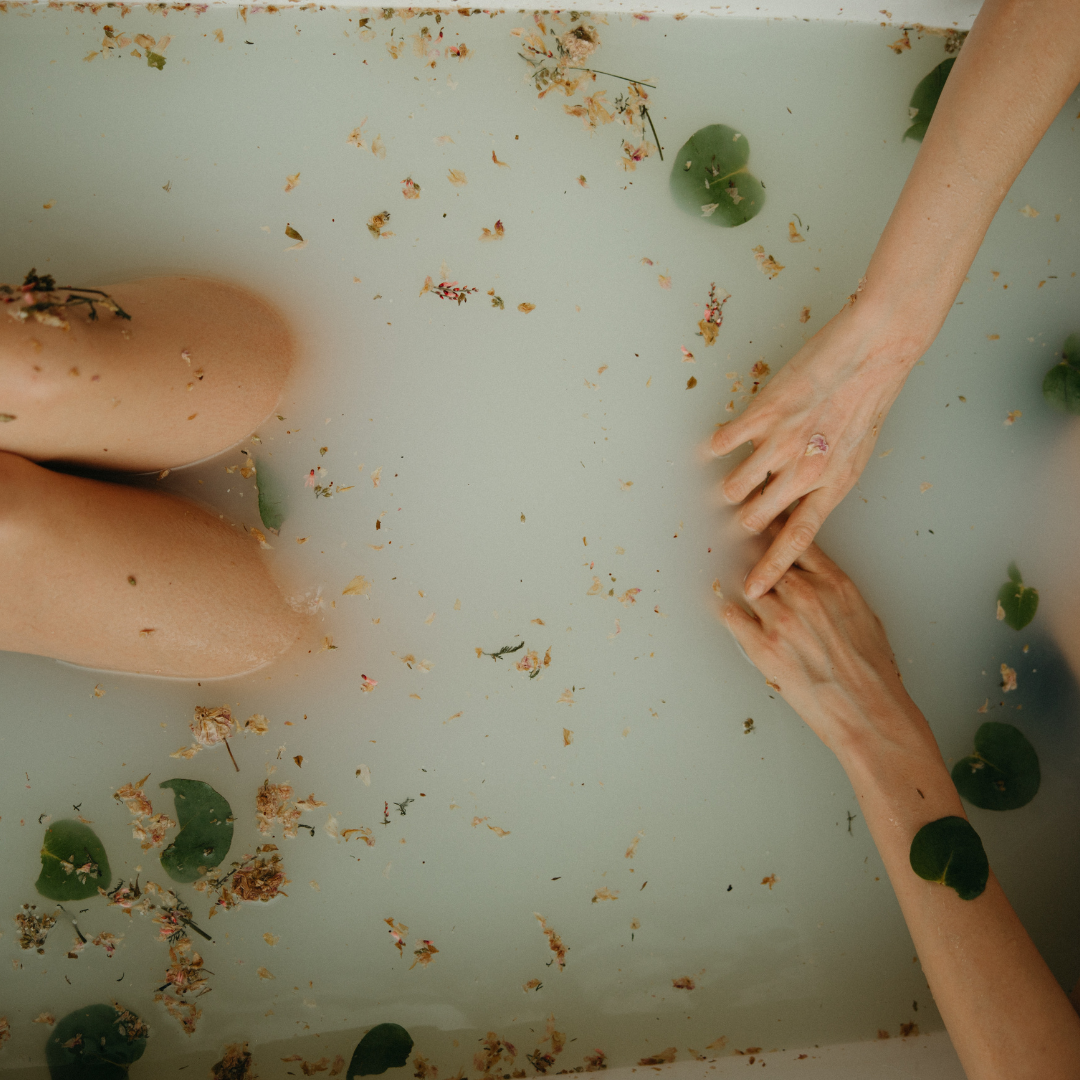 capture clean.
at Pearl & Moss, we work hard to create products that benefit our skin, while still being mindful of the environment. that's why we always cross reference the Environmental Working Group (EWG) Skin Deep Database to ensure what goes onto your body is good enough to go into the plant as well.